You are currently browsing the category archive for the 'Politics' category.
I'm getting to the point where I'm thoroughly disillusioned with Kevin Rudd. These things build up over time – his generally arrogant nature, his proposed Internet filter, his feet-dragging on the republic and gay marriage – but what's really pushed me over the edge is his stance on asylum seekers.
Let's recap the history of this in Australia. We have a long, long tradition of xenophobia that I won't bother going into – the treatment of Chinese immigrants in the gold rush, attitudes towards Southern Europeans after WWII, the White Australia Policy, etc. Even today it is evident in the charming young men and women who drape the flag across themselves on Australia Day and write "Fuck Off, We're Full," on their chests (for the record, Australia has the third-lowest population density in the world). Most Australians are racist pricks who don't like brown people, a sentiment that our leaders rarely neglect to take advantage of.
In 2001, a sinking boat full of several hundred Afghan asylum seekers was picked up near Christmas Island by a Norweigan cargo ship, the MV Tampa. With the boat severely overloaded, the captain requested to dock at Christmas Island. The Australian government promptly refused him. With many of the refugees needing medical attention, and some becoming aggressive at the prospect of returning to Indonesia (where they would subsequently be sent back to Afghanistan, as Indonesia is not a signatory to any refugee conventions), the captain took a stand and entered Australian waters anyway.
John Howard promptly responded by dispatching the SAS, who seized control of the vessel in order to protect Australia… from helpless, sick, desperate refugees. I think it was around this point that, with John Howard's careful nurturing and a little help from 9/11, we experienced a paradigm shift in the Australian mindset. We went from vaguely disliking the brown people who came here and ate funny food and didn't speak English well, to seeing them as an active threat that required military intervention; a yellow Sword of Damocles right above us, lurking in the jungles and ports of Indonesia, assaulting us with wave after wave of leaky wooden boats. Flooding us, even! We started using words like border "protection," a "tough stance," worried that Australia was becoming a soft "target." We didn't talk about refugees and asylum seekers; we talked about "illegal immigrants" and "queue-jumpers."
Flash forward eight years. John Howard is gone, and in his place is Kevin Rudd, who leans further and further to the right with every passing month. A similar situation has occurred, but instead of a foreign cargo vessel, an Australian Navy ship was first on the scene. 78 Sri lankan asylum seekers were rescued from a sinking ship in Indonesian waters, transferred to an Australian customs vessel, and taken to the nearest safe port in Indonesia. They now refuse to leave the ship, and the stalemate has dragged out for weeks. They refuse to step onto Indonesian soil for the same reason the Afghan refugees on the Tampa did: they will be returned to where they came from, where they have every reason to fear for their lives, and the lives of their children. It is a perfectly understandable response. If I was in their shoes I would do the exact same thing.
I'm sure John Howard was quite pleased with how he dealt with asylum seekers. It was politically popular, and the Tampa alone was responsible for winning him the 2001 election. It was also desirable on a personal level, because Howard was a racist. Not the kind of racist who would spit on an Asian in the street, but certainly the kind of racist who orchestrated policies and legislation designed to limit immigration and keep Australia as white as possible.
Kevin Rudd, on the other hand, is somewhat torn. I'm sure that he personally sees the need to be more humanitarian towards refugees. He recognises the insanity in demonising the world's most wretched, hopeless, pathetic groups of people, the ruthlessness in painting them as a threat for political gain. Such is evident from his general relaxation of the Howard-era policies: the disbandment of the Pacific Solution, speeding up processing of protection visa applications, and the guarantee of permanent residency to successful applicants.
But, because of the kind of man he is, Kevin Rudd is allowing his political instincts to overpower his compassion. He wants to appear TOUGH, just like John Howard was, and ignore the fact that this was never an issue that needed "toughness" applied to it. That big ball of hatred that Howard carefully crafted is too difficult (and useful) to just get rid of, so he's done his best to transfer the loathing to people smugglers – a strategy that is both blatantly transparent and no more ethical than Howard's.
A real left-wing politican would try to undo Howard's legacy. A real left-wing politician would try to convince the Australian people that refugees are not a threat, not a danger, not a problem to be solved but rather people to be helped. A real left-wing politician would make us look at refugees and see human beings, mothers and fathers and their children, rather than "illegal queue-jumpers."
Unfortunately, Rudd is not really a left-wing politician at all.
Black Swan Green by David Mitchell (2006) 371 p.
Black Swan Green is a break from Mitchell's usual style. Previously, he rivalled Michael Chabon as an author commendably unafraid to plunge into the waters of speculative fiction, despite what the long-beards on the Pulitzer and Booker boards might have to say about it. His previous novel, Cloud Atlas, was a dazzling trip through space and time, from the South Pacific in the 19th century to the dystopic, Gibsonesque streets of a 22nd century Korea, to the savage and brutal islands of Hawaii long after life has been snuffed out in the rest of the world. It's partly because of this that Cloud Atlas is my favourite book. There are very few writers in the world who are able (and willing) to approach genre fiction with genuine literary skill, and I love them all.
Yet Black Swan Green is what some might call a "maturation." Split into thirteen chapters set from January 1982 to 1983, it chronicles a year in the life of Jason Taylor, growing up in the titular village in Worcestershire. It is clearly, to some extent, a fictionalised autobiography. Jason is a shy and quiet boy, intelligent but not a genius, an aspiring poet. The novel follows his typical teenage trials – popularity at school, his parents' rocky marriage, the inevitable encounters with girls – with barely a whisper of the more exotic and imaginative flair that rapidly made David Mitchell my favourite author. Black Swan Green holds no fabricants, no non-corpus, no nuclear wars, no omnipotent AIs, no expeditions to ruined observatories atop Mauna Kea. Instead we have Margaret Thatcher, the Falklands War, Woodbines, Beta and the jingoism of the Daily Mail.
This is not entirely a bad thing; Black Swan Green is still an excellent novel. David Mitchell is endlessly readable; he could write a novel about bricklaying and I'd buy it. His effortless use of prose to create beautiful, elegant sentences is a matter of public record, and of equal merit is the wide range of themes he weaves into his stories.
Not since Ender's Game have I read something that so hideously reminded me of what those early years of high school are like: the savagery and the cruelty, the constant fear and anxiety, a few asshole kids capable of making you miserable on a whim ("Picked on kids act invisible to reduce the chances of being noticed and picked on," Jason notes). Once you become an adult, when people automatically treat each other with civility and respect, it's easy to forget what wretched pieces of shit most young teenagers are. "It's all ranks, being a boy, like the army," Jason says, and while his own popularity rises considerably over the course of the year, it all comes crashing down with a single act – one which any adult would characterise as selfless and brave.
Jason eventually learns to fight back, and stand up for himself, and repels his tormentors in a story arc I found to be entirely too convenient. You change fast when you're thirteen – but not quite that fast.
Jason's thoughts and feelings are livened up somewhat by the presence of three voices in his head, facets of his personality. Hangman is the personification of his stutter, a cruel monster that strangles his words, forcing him to live in constant fear that his secret will be discovered and he will be forever pegged "Stutterboy" by the other kids. Maggot represents everything he hates about himself, all his worst desires, particularly his desperate need to be accepted by his peers, no matter what the cost to his personal values and integrity. Unborn Twin is the most mysterious, sometimes a guiding angel and sometimes a luring demon, never fully explained.
There are a few echoes from Mitchell's other novels – Neal Brose, one of Jason's bullies, is the narrator of the Hong Kong segment in Ghostwritten, a shady financial lawyer who will one day experience his own epiphany and drop dead of a heart attack. The Neal Brose of Ghostwritten is not a good person, but not a bad one either – he is a human being, an adult, flawed and complex, containing multitudes. Mitchell's choice of this character is not an accident; he is reminding us that everybody grows, that while Jason's peers may be dickheads now, they won't always be. As Jason points out, though, "How does that help me?"
The more interesting encounter is with Eva van Crommelynck, who was a teenager in Cloud Atlas, and the object of Robert Frobisher's desire. She is an old woman now, tutoring Jason in poetry, and at one point they leaf through her old photo album together. Robert Frobisher, Cloud Atlas' greatest character, is enshrined in black and white, and Eva spends a page or two recounting his fate and revealing the terrible guilt she felt over his suicide. Zedelghem, we learn, was destroyed during World War II. Now it's just "little boxes for houses, a gasoline station, a supermarket."
And, of course, we revisit Mitchell's favourite themes. Aside from the obvious presence of predation in schoolyard bullying, we see bigotry and hatred and ignorance cropping up everywhere. Walking down a country lane, Jason is told to clear off by a farmer who then sets his dogs loose. Jason escapes, and is: "Okay, but poisoned. The dog man despised me for not being born here. He despised me for living down Kingfisher Meadows. That's a hate you can't argue with. No more than you can argue with mad Dobermanns." The casual racism flung about by Jason's older relatives, pompously waffling on in the assumption that their younger audience agrees with them, felt very familiar: "The fact of the matter is" (Uncle Brian doesn't hear what he doesn't want to) "the Japs are still fighting the war. They own Wall Street. London's next. Walking from the Barbican to my office, you'd need… twenty pairs of hands to count all the Fu Manchu look-alikes you pass by." And when the council proposes a permanent gypsy settlement next to Black Swan Green, the villagers assemble an "emergency" meeting to protest it. Jason is repulsed by their violent prejudice, but when he encounters some gypsies himself, he finds that they too hold similar prejudices against the townfolk, and uses the same metaphor twice to describe their narrow minds and blinkered eyes.
It is a cruel world we live in. And there's nothing we can do about that. For the October edition of The Atlantic magazine, Andrew Sullivan wrote an open letter to George Bush, urging him to personally take responsibility for the countless acts of torture that occurred during his administration. (It is beautifully written and worth your time.) Sullivan was formerly an advocate of prosecution, arguing that Cheney and Bush and their ilk needed to be held fully accountable for their actions if the United States was to truly live up to its ideals. Now he argues that this would "tear the country apart" (a cop-out excuse used during every season finale of 24, but each to his own). Instead he urges Bush to take personal responsibility, to apologise, to demand an independent inquiry and to admit that he was wrong.
We all know that Bush will never do this – even this, this small and tiny thing, far easier than what he truly deserves, which is to be tried in the Hague as a war criminal. He will remain encapsulated in Texas, living amongst the 20% of the American population who still think he was a great President. He will deny even to himself that he ever did the wrong thing.
A reader wrote in to the Sullivan shortly afterwards:
What I saw was the final summation of a very fine attorney – an attorney for the defence of this nation and our deepest values. It was a summation made not to a jury and a courtroom, but to everyone in the nation, and to history; a summation made in the clear knowledge that no actual indictments will ever be brought against these men in the real world, no verdicts entered, no sentences handed down. It was left to the power of the pen and the pixel to render judgement – which you did, brilliantly… You indicted, tried, convicted and sentenced them all in one grand piece.
This is how I feel about David Mitchell, not as an author or an entertainer, but as an observer of the world around us. It is a world of unspeakable cruelty, of barbarity and violence, from the sickening taunts of bullies in Black Swan Green to the savage rape and murder perpetrated by Kona tribesman in Cloud Atlas, to the very real torture inflicted on detainees of questionable guilt in CIA black sites all over the world. It is a world full of hatred and prejudice, which Jason aptly describes as "poison." As infuriating as the poison itself is, the most frustrating and heartbreaking part is its inexplicable nature – the lack of a why. This will never change. But as long as we have writers like David Mitchell (and Andrew Sullivan), gifted wordsmiths and good people, to at least acknowledge and decry the poison, we'll be okay.
I just hope that in the future, Mitchell will return to combining this with the imaginative, exotic adventures I came to love in his previous novels.
What is it with Australians? Why are most of us such irredeemable fuckheads?
A bunch of refugees show up in a rickety boat, having crossed thousands of miles to escape the kind of terror and misery that we can't even begin to imagine, and Australians react by writing angry letters to the The West Australian about how we should "send them back where they came from" and how "we decide who comes into this country." The West feeds the fire by regularly splashing photos of boat people across the front page with headlines like "STRAIGHT TO OUR DOORSTEP."
I hate the West. I really do. I read it because I don't have much of a choice, it being the only daily in the state. The highlight of each paper is usually the letters to the editor, a seething nest of xenophobic snakes that lash out at anything remotely foreign and lament the road to ruin that we are surely rocketing down. And you know, the funny thing is, the day that the most recent SIEV exploded out near Ashmore, killing two and severely wounding dozens, the West ran two editorials by Andrew Probyn and Paul Murray. Both of them dispelled the notion that there is a "tide" of illegal immigrants threatening to "swamp" Australia, and pointed out some facts:
1. In 2008, 4750 people applied for ("applied for," not "were granted") asylum in Australia… compared to, say, 36,900 in Canada and 31, 200 in Italy.
2. Less than 1% of the global population of asylum seekers wind up on Australia's shores.
3. The vast majority of asylum seekers (95% to 99%) in any given year arrive by plane, not by boat. The vast majority of illegal immigrants in Australia are not those who apply for refugee status, but rather those who arrive here legally on tourist or working visas and then simply remain when they expire.
Why does the West concurrently run reasonable, sensible articles on the one hand, and throw fear-mongering headlines around with the other? A rhetorical question. It sells papers, and all you need to give up in return is your journalistic integrity!
The fundamental truth is that asylum seekers are not, by any stretch of the imagination, a threat to Australia. They are poor, ragged, desparate human beings who throw themselves on our mercy. The fact that the previous government exploited them as a convenient political scapegoat, pandering to the worst kinds of ugly, racist elements in Australian society, is disgusting. The fact that the current government maintains the status quo for fear of being seen as "soft" is disgusting. The fact that most Australians still see refugees as a threat, a problem or an inconvenience, rather than as human beings who need our help, is disgusting.
We went camping on the weekend. Chris and I had an argument with the adults about the whole issue. I find it shocking that these people, mature adults whom I am very close to and whom I greatly respect, have such ignorant and bigoted views on the issue. My father complained that all the medevac flights and Navy rescues and surgical operations will cost a lot of (PRECIOUS TAXPAYER'S) money. What is the alternative? Letting them burn to death, or drown? How warped does your moral compass have to be to put a price tag on a human life? "They're not from our country," he said. How warped does your moral compass have to be for you to think that, simply because somebody was not born on the same patch of soil that you were, you have no obligation to PREVENT THEM FROM BURNING TO DEATH?
One of my aunts said "where do you draw the line?" I repeatedly tried to explain to her that there is no need to draw a line; that boat people are a non-issue; that the numbers are so miniscule as to be completely irrelevant. She stubbornly repeated the same line over and over.
Another of my aunts said she was genuinely concerned that Muslims could become a majority in Australia and somehow destroy our culture and not let us raise the flag, sing the anthem etc etc. Apart from being a mathematical impossibility, the fact that people view Muslims as some kind of all-devouring force of subjugation and destruction is so hysterical as to be completely laughable. "They come here and tell us how to live," "if we tried that in their country we'd be shot," "we're not allowed to celebrate Christmas anymore" BLAH BLAH FUCKING BLAH. I'm so goddamn sick of hearing the same old, tired arguments with a foundation in nothing more than a filthy swamp of prejudice and xenophobia.
And this didn't fucking happen by accident. Yes, the urge to fear and destroy anything different from us is deeply embedded in our genes, but it was fucking Howard who carefully, painstakingly nurtured that urge into violently nationalist sentiment over his eleven years in office. Now it's part of the zeitgeist and it isn't going away. We still have people perceiving a handful of Muslim refugees in leaky boats as some kind of MASSIVE OVERWHELMING THREAT to the Anglo-Saxon juggernaut that straddles this massive continent. Racism and intolerance has become a social norm.
I can't wait till that generation dies.
I wasn't going to write up anything about the election. Jovial scamp that I am, I figured my highlarious Zoolander gif would be appropriate enough. But then I thought that maybe I might regret that sixty years from now. So here I am, writing my thoughts down at three in the morning, taking a break from completing my penultimate university assignment.
It's a "what were you doing when" moment, only the second one in my lifetime so far. We all know what the first one was. I was twelve years old and already in bed when it happened at GMT +8. Missed that one.
So what was I doing when the United States elected its first black president? Well, I was was on the Internet. I was watching the CNN feed on ABC, browsing political websites, checking FiveThirtyEight.com and the BBC and Yahoo's electoral map. I was posting on the Progressive Boink forums, making timeless observations such as:
CNN just boldly called Texas for John McCain!
CNN's Phoenix correspondent has a weirdly shaped face.
ladies and gentlemen: will.i.am as a hologram.
cnn, you have outdone yourself in the fields of professionalism and dignity
And then I watched John McCain's concession speech and I liked it. It was dignified, and gracious, and every time his asshole redneck supporters booed about Obama he was clearly displeased and told them, in polite terms, to shut up.
And I figured that if I was impressed by McCain's speech I would be blown away by Obama's. Naturally, the phone rang pretty much as soon as he opened his mouth. I didn't budge from the couch. After about a minute it gave up, and then my mobile started chirping: "Chris Mobile."
MITCH: What?
CHRIS: Answer your fucking phone!
MITCH: What the hell do you want? Obama is giving his acceptance speech!
CHRIS: Oh. What channel?
MITCH: Seven.
CHRIS: Bye.
For the first few moments, as the first black president stood there waving with his family, I had a horrible, overwhelming feeling that I was about to see him get shot in the head. Right there with his daughters, transmitted live to millions of people across the globe, glorious victory transformed to horrific tragedy in a split second. I held my breath.
It didn't happen. And, after a while, that feeling went away.
He's gonna be okay.
I went and bought the paper today, so I can keep it and show my kids.
It feels weird. For so long it has been the status quo to hate the U.S. government, to consider them corrupt monsters. Armchair generals who start wars, who wreak bloodshed across the Middle East, who spy on their own people, who kidnap and torture citizens of other countries. Rich men, born with silver spoons in their mouths, concerned only with their fellows in the upper tax bracket, manipulating the public, encouraging the politics of stupidity and fear and divisiveness. The worst kind of human beings.
For good presidents, for men whom we can trust and admire and respect, we have been forced to look to fiction. To characters like David Palmer and Josiah Bartlet. I watched them on the screen and I sighed and I thought, "If only." I didn't believe a good president was possible.
It is very, very difficult to imagine a benevolent White House. And that's the most amazing thing about this election, at this point in time, for me personally. It has nothing to do with the fact that Barack Obama is black, though from an objective standpoint that's clearly the biggest deal. It has everything to do with the fact that I can't remember what it's like to respect the President. I can't remember what it's like to have an intelligent man, a compassionate man, a well-educated man as the world's leader. I can't remember what it's like to not roll my eyes at the President, at his idiotic cowboy demeanour, at his inability to grasp the fundamentals of the English language, at his representation of everything that is wrong with America.
Barack Obama represents everything that is right with America.
And I'm looking forward to regaining my respect not just for the man and the office, but for the nation itself.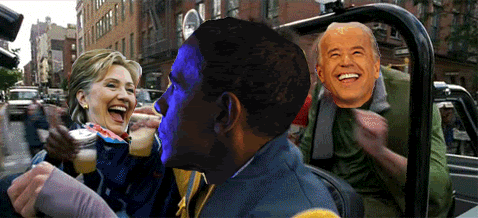 In 24 hours, the voting opens on the east coast of the United States. This long, glorious, amazing race that I and millions of other people have been following intently for the last year will draw to a close. Many spectators are saying that they're sick of it and wish it would end already. I'm not and I don't. I love this shit. It's my equivalent of the Grand Final or the Superbowl, and this year's showdown promises to beat even Australia's federal election in '07.
Polling data, narrative convention and a wild sense of optimism suggest Obama will win. The sick feeling in my gut suggests that the old white Republican will inevitably win, no matter what the polls say. Millions of powerless global onlookers will sigh, mutter "stupid Americans" and buckle up for another four years of having their economy ravaged, the threat of terrorism increased, and the issue of climate change ignored.
Here's my prediction now: Obama wins the popular vote by roughly 5%, and takes all Kerry states plus Virginia, Colorado, Iowa and maaaybe Ohio. Pennsylvania will come close, but Obama will just scrape across the finish line. Vice versa for Florida and New Mexico.
Okay, so I'm deliberately damping down the more likely outcome because I have, as Tom Tomorrow does, "faith that the Democrats can pull this one out of the fire at the last second and lose." If current estimates hold, it's quite likely that Obama will also take Nevada, Florida, New Mexico, Missouri and North Carolina, and he has a glimmer of hope in Indiana and North Dakota. In my wildest dreams he might even steal Georgia from under McCain's nose. It is going to be a Barackslide. An Obamalanche. Unless lazy college students stay home and don't vote, or the Bradley Effect turns out not to have dissipated after all, or the simple overwhelming stupidity of the average voter once again bursts out of the sewers, lashing its tentacles about and screeching some awful Lovecraftian dialect.
I'm not saying you'd be stupid to vote for McCain. You are stupid if you voted for Bush, and you would be stupid to vote for Palin, but McCain is different. He would make a competent president. Perhaps not a humane or sensible or wise president, but certainly not a semi-retarded disaster like the idiot cowboy we've had in the White House for the last eight years. Perhaps your personal beliefs coincide with McCain's. Perhaps you want to keep your guns and think abortion is wrong and believe that taxes are evil. I find such beliefs utterly alien, but what can you do?
I mentioned narrative convention earlier. As a writer, I tend to see things in terms of how natural a story it makes, as do most political campaigners. If a young, inexperienced athlete somehow struggles all the way through the heats and trials and ends up racing against the arrogant Caribbean sprinter at the Olympics, he is going to win. If a young soldier sitting in the muddy trenches shows his sergeant a photograph of his girlfriend waiting back home in Kansas, he is going to get shot. If a young black politician with a gift for eloquent speeches and a belief in clean campaigning, who posesses a balance between pragmatism and idealism, who maintains a calm and steady demeanour in contrast to the fiery black demagogues of the past – if he takes on the Republican Party after eight years of a stormcloud over America, after eight years of a fucked-up economy, a fucked-up reputation, a fucked-up war and a fucked-up environment – if he comes out of nowhere to challenge an old white right-wing military vet who engages in the politics of fear, who encourages the culture wars, who thinks you can defeat a religious ideology with tanks and soldiers – a man who may be more intelligent than his predecessor, but is certainly no more respectable – he is going to win.
We are standing at a watershed moment in history. If Obama wins it will be a monumentous day, a line drawn under the failed policies of the last eight years and the inherent racism of the last three hundred. It will be, after 9/11 and possibly Hurricane Katrina, the most memorable snapshot of this decade.* A black man, standing on the steps of the Capitol with snowflakes dusting his shoulders, placing a hand against the Bible and swearing the oath. We will remember that image for as long as we live.
If McCain wins, on the other hand, it will be a boring story. It will be Just Another Old White President.
Reading back over that it seems like I'm saying you should vote for Obama because he's black – which you shouldn't, of course. There are plenty of other reasons you should vote for him: his intellectual curiosity, his good education, his sane willingness to engage with other nations (including those considered enemies), his concern for all American citizens (not just the wealthiest upper crust), his basic decency and, above all, the fact that he is a Democrat after a long, ugly Republican era. The pendulum is swinging to the left, and it's time for a change. You should vote Democratic in this election. The fact that the Democratic candidate is black is not the rationale behind this. It's merely a fortunate bonus.
From Justin Webb, the BBC's North America correspondent, whose laudably non-partisan blog I have followed for months, as he recaps the last of his three greatest moments in the campaign:
The third moment was also in Denver, but was outside the hall as I wandered lost, looking for the portable office we were calling home.
Suddenly, in front of me there is activity. Men in grey suits are talking into their sleeves. Huge, sleek cars are being revved. Motorbikes are getting into formation.
It is not him, it is his family.
As the SUVs pass – including several with the doors and back windows open, men with large automatic weapons looking out with keen hard glares – I catch just a glimpse of the children, of 10-year-old Malia and seven-year-old Sasha peering out. I think their mother was sitting in the middle.
This is the true revolution.
There have been, after all, prominent black politicians for decades now, men and women afforded the full protection and respect that the nation can muster.
But seeing little black children gathered up into the arms of the secret service, surrounded by people who would die rather than let them die, is to see something that must truly make the racists of Americas past revolve in their graves.
I do not think Barack Obama will win or lose because of his race, but if he does win, the real moment you will know that America has changed is not when he takes the oath, but when we see pictures of tiny people padding along the White House corridors – a black First Family – representing America and American-ness.
True, Americans tire of their presidents, but in their early years they hold huge sway, they set the style.
Americans will look in the mirror, metaphorically speaking, and black faces will look back.
I wonder if the Obama children have ever asked the question: "Are we nearly there?"
The answer, at last, is: Yes, we are nearly there.
From the New Yorker, via the Guardian:
The election of Obama – a man of mixed ethnicity, at once comfortable in the world and utterly representative of 21st-century America – would, at a stroke, reverse our country's image abroad and refresh its spirit at home. His ascendance to the presidency would be a symbolic culmination of the civil- and voting – rights acts of the 1960s and the century-long struggles for equality that preceded them. It could not help but say something encouraging, even exhilarating, about the country, about its dedication to tolerance and inclusiveness, about its fidelity, after all, to the values it proclaims in its textbooks. At a moment of economic calamity, international perplexity, political failure and battered morale, America needs both uplift and realism, both change and steadiness. It needs a leader temperamentally, intellectually and emotionally attuned to the complexities of our troubled globe. That leader's name is Barack Obama.
And from a pair of Canadian comedians whom I have never heard of, but whom I would like to shake the hands of, a reminder that no matter what the outcome of this election or this century, there'll be plenty to laugh at – and that if you vote for any ticket that ever features Sarah Palin you deserve whatever hideously incompetent government you get.
Get out there and vote!
For Obama!
________________________________
*Unless, of course, he gets assassinated next year.
11:55 – The leadup discussion on SBS supports my belief that 95% of Australians (and, perhaps, foreigners in general) want Obama to win.
11:59 - There are a lot of Republicans who want Palin on top of the ticket? Really? Who are these people, and who feeds and clothes them?
12:00 – Oh, so this is a "town hall" meeting. Why?
12:07 – What is it with McCain/Palin and "countries that don't like us very much"? Did they just discover this a few days ago, or something?
12:08 – I don't see how a "town hall" format where the senators have to walk around is going to favour McCain. He walks like he has rigor mortis.
12:09 – "Who would your treasurer be?" "Not you, Tom." What the fuck?
12:10 – Those high chairs were a stupid idea. Obama looks like a child and McCain looks like a propped-up corpse that can't bend.
12:17 – I love it how McCain always refers to those nameless, faceless bad guys in Washington; all the cronies and lobbyists and the "old crowd" who better expect change, because he's a maverick!
12:18 – "How can we trust either of you with our money when both parties got us into this global economic crisis?" Obama freezes like a rabbit in headlights, but recovers fairly well.
12:24 – So McCain is happy to "reach across the aisle" and "sit down at the table" with the Democrats, but not with the Spanish? That seems odd.
12:25 – Brokaw getting increasingly more irritated by the candidates' refusal to stick to the timeline is pretty amusing.
12:28 – Larger deficits than the federal government, oh Brokaw, you witty fellow.
12:29 – First Internet question from a "child of the depression" – I didn't know 70-year olds used the Internet – asks when Americans will have to make sacrifices. McCain goes off on some bizarre idea about slashing government programs, except the vital ones like "defence" and "veteran's affairs." (I'm sure the US can do without "education" and "health.") Obama starts off with 9/11 and criticises Bush's command to go out and spend, which was nicely done, though the urge to join the Peace Corps was ambitious.
12:35 – McCain says Obama wants to raise taxes as though it's on par with murdering sick babies.
12:36 – Senator Obama's secret "that you don't know," drumroll, is that his tax cuts will damage small business or something. SHOCK HORROR
12:37 – Ahaha, Brokaw says he has another question from "The Internet," with an emphasis on it as though this is 1995.
12:39 – "Nailing Jello to the wall," "Straight-Talk Express losing a wheel…" both candidates need to stop trying to make jokes.
12:41 – McCain declares that he'll answer the question, laughs freakishly, and advances on Brokaw like a crippled zombie. He criticises Obama's frequent voting in support of tax raises, comparing their records. I know this is a basic division between Republicans and Democrats, and the American people are equally divided on it, but GODDAMMIT WE NEED TAX MONEY TO PAY FOR STUFF
12:44 – McCain makes the laughable assertion that nuclear power is "safe" and "clean." He seems to be trying to whip up a lot of nationalist sentiment, going on about how awesome America is, which might have worked if it weren't for Brokaw glaring at each member of the audience, daring them to even try making a stir.
12:46 – Obama talks about alternative energy sources, geothermal and solar and wind and such. This is the intelligent answer, and the one that the Western world will have to go with in the end anyway, but I'm not sure how it will play with Americans.
12:49 – ….Did McCain just refer to Obama as "that one?"
12:55 – McCain makes a crack about "hair transplants." I TOLD YOU TO STOP MAKING JOKES.
12:56 – McCain says healthcare is a responsibility, Obama says it is a right, talking about people going bankrupt over their medical bills, which is "fundamentally wrong." This is clearly true, and we all know that the entire world looks at America's healthcare system with disgust, but it seems risky for Obama to say that to the people who apparently want it that way.
1:00 – my friends my friends my friends my friends my friends my friends my friends my friends my friends my friends my friends my friends my friends my friends my friends my friends
1:02 – McCain is repeating the old "Senator Obama doesn't seem to understand" line that proved unpopular last debate. He's also still not looking Obama in the eye when he criticises him, which will be a lot easier to get away with in the town hall format, but is still imprudent.
1:06 – Obama finishes up a talk with "that's what I will do when I'm President." Is that presumptuous? Or do presidential candidates always talk like that? McCain brings back the old line about troops in Iraq and how any negative word against them equals defeat, blah blah blah.
1:09 – "Should the United States respect Pakistani sovereignity… or should we ignore their borders and pursue our enemies as we did in Cambodia?" Yes, Cambodia turned out so well. Obama turns this into an issue of being disctracted by Iraq, says that the Afghan-Paki border is the front line in the war on terrorism. "We will kill bin Laden, we will crush Al-Qaeda."
1:11 – McCain says Teddy Roosevelt is his hero mere minutes after saying Reagan is his hero. Make up your mind. He makes the case for co-operation with Pakistan rather than force. This is an unusual role reversal.
1:13 – In a follow-up, Obama clarifies that if Pakistan is unable or unwilling to hunt down bin Laden than the US should, and brings up McCain's "bomb bomb bomb Iran" thing. This is heating up!
1:15 – Obama brings up Pakistan's dictatorship status and claims that's why public opinion turned against the US there. McCain claims to know how to get bin Laden, but won't tell us. That's nice of him.
1:19 – Onto Russia now. McCain rightfully chides its recent behaviour, then repeats his tired old line about looking into Putin's eyes and seeing three letters: K, G and B. You know, I look into Palin's eyes and see three letters: G, W and B.
1:23 – Brokaw brings up a stupid quote from the nightmarishly black and white years of the Reagan administration and asks them if they think Russia is an "evil empire." Both candidates criticise the question and avoid giving a direct yes or no, as they should.
1:25 – A guy asks a question about defending Israel, and McCain practically humps his leg because he was a serviceman. This troop worship has got to stop.
1:30 – Question about what Obama doesn't know and how he will learn it. Obama just barely manages to steer it away from the inexperience angle, by going off on a story about the American dream.
1:34 – And McCain responds in kind with another feelgood talk about how people always pull together, or something.
1:35 – Brokaw brings it to a close, ordering McCain to get out of the way of his teleprompter. Holy fuck, is that McCain's wife? She's like 30! Another note on wives - McCain's is wearing a blue dress and Obama's is wearing a red dress.  Handshakes, waving, touching.
So to sum up, it was – SURPRISE SURPRISE – a fairly restrained debate with no knockout blows or gaffes on either side! Both candidates avoided questions and spun their own agendas, as usual, but Obama probably came out on top simply due to his body language and appeal. McCain said and did a few odd things which were very unappealing. On the whole, this was nowhere near as one-sided as the VP debate, and also nowhere near as interesting.
Postscript: I missed this while it was on, but have since been made aware of this clear evidence that McCain has nothing but contempt for Obama. What a fuckhead.
I know I always argue against paranoid internet conspiracists who think the US is only a few constitutional amendments away from a totalitarian police state, but this was just too good to resist:
Dr. Lawrence Britt* outlines the 14 characteristics of fascism:
1. Powerful and Continuing Nationalism
Fascist regimes tend to make constant use of patriotic mottos, slogans, symbols, songs, and other paraphernalia. Flags are seen everywhere, as are flag symbols on clothing and in public displays.
2. Disdain for the Recognition of Human Rights
Because of fear of enemies and the need for security, the people in fascist regimes are persuaded that human rights can be ignored in certain cases because of "need." The people tend to look the other way or even approve of torture, summary executions, assassinations, long incarcerations of prisoners, etc.
3. Identification of Enemies/Scapegoats as a Unifying Cause
The people are rallied into a unifying patriotic frenzy over the need to eliminate a perceived common threat or foe: racial , ethnic or religious minorities; liberals; communists; socialists, terrorists, etc.
4. Supremacy of the Military
Even when there are widespread domestic problems, the military is given a disproportionate amount of government funding, and the domestic agenda is neglected. Soldiers and military service are glamorized.
5. Rampant Sexism
The governments of fascist nations tend to be almost exclusively male-dominated. Under fascist regimes, traditional gender roles are made more rigid. Opposition to abortion is high, as is homophobia and anti-gay legislation and national policy.
6. Controlled Mass Media
Sometimes to media is directly controlled by the government, but in other cases, the media is indirectly controlled by government regulation, or sympathetic media spokespeople and executives. Censorship, especially in war time, is very common.
7. Obsession with National Security
Fear is used as a motivational tool by the government over the masses.
8. Religion and Government are Intertwined
Governments in fascist nations tend to use the most common religion in the nation as a tool to manipulate public opinion. Religious rhetoric and terminology is common from government leaders, even when the major tenets of the religion are diametrically opposed to the government's policies or actions.
9. Corporate Power is Protected
The industrial and business aristocracy of a fascist nation often are the ones who put the government leaders into power, creating a mutually beneficial business/government relationship and power elite.
10. Labor Power is Suppressed
Because the organizing power of labor is the only real threat to a fascist government, labor unions are either eliminated entirely, or are severely suppressed .
11. Disdain for Intellectuals and the Arts
Fascist nations tend to promote and tolerate open hostility to higher education, and academia. It is not uncommon for professors and other academics to be censored or even arrested. Free expression in the arts is openly attacked, and governments often refuse to fund the arts.
12. Obsession with Crime and Punishment
Under fascist regimes, the police are given almost limitless power to enforce laws. The people are often willing to overlook police abuses and even forego civil liberties in the name of patriotism. There is often a national police force with virtually unlimited power in fascist nations.
13. Rampant Cronyism and Corruption
Fascist regimes almost always are governed by groups of friends and associates who appoint each other to government positions and use governmental power and authority to protect their friends from accountability. It is not uncommon in fascist regimes for national resources and even treasures to be appropriated or even outright stolen by government leaders.
14. Fraudulent Elections
Sometimes elections in fascist nations are a complete sham. Other times elections are manipulated by smear campaigns against or even assassination of opposition candidates, use of legislation to control voting numbers or political district boundaries, and manipulation of the media. Fascist nations also typically use their judiciaries to manipulate or control elections.
REPUBLICANS R F*CKIN NAZIS MANNNNN!!1
Not quite that bad, obviously, but disturbing patterns emerge.
*Who will probably turn out to be some whacko who thinks 9/11 was an inside job.
We just got reconnected to the Internet, switching service from the decrepit, wheezy Westnet to slick, fast national telecom company Telstra. It's a noticeable improvement. We were supposed to get recconected on Thursday, but the dude showed up at the wrong time so it was rescheduled for today, which was why I had to spend eight hours last night using Chris' computer to do some research for assignments that were due today while the grey fingers of dawn slowly crept above the horizon. It's now 2.00 PM and I'm going on 27 hours without sleep. Hurrah!
So let's recap some things that happened during my absence.
I just watched the Biden/Palin debate on ABC, and it was somewhat disappointing. Judging from her TV interviews I was expecting a catastrophic but entertaining trainwreck, but Palin actually kept it together fairly well. She didn't actually give any coherent or sensible answers, of course, but she stuck to the aw-shucks small-town hockey-mom persona that is her main strength and came through without any major fumbles, apart from fucking up McKiernan's name.
Quick aside: why on Earth do Americans find the idea of an average Joe president appealing? Why do they have this concept that well-educated, intelligent professionals are "elitists" who can't be trusted? You have no business being President. You don't know how to be President. And that's why we don't want anyone like you to be President. If you are in doubt of this, examine the last eight years. The last thing America and the world needs right now is another redneck yokel seizing the reins of the world's most powerful warhorse, equipped as it is with nuclear firebreath and a vast army of the Midwest's underprivileged teenagers.
Anyway, Palin's stance throughout the debate can mostly be summed up as "Doggone it say it ain't so joe folksy rural charm aw gee willikers mainstream liberal media MAVERICK MAVERICK MAVERICK MAVERICK MAVERICK MAVERICK MAVERICK MAVERICK MAVERICK MAVERICK MAVERICK."
Biden did a great job. "Ultimate Bridge to Nowhere" was an ice cold burn, calling out her bullshit on McCain being a maverick was great, and the bit where he choked up was fucking magnificent. If he'd actually failed to hold it back, and cried a little, he would have looked weak. But he didn't. He kept his composure and it was brilliant.
Moving on from the farcical notion that Sarah Palin is fit to govern Alaska, let alone the United States, let's discuss my personal life some more. The reason I have been so busy this September, failing to update End Times even once, is that I had prac. Fucking prac.
2008 is my final year of university, and I signed up to a work experience unit that would see me placed in a workplace related to professional writing for six weeks, two days per week. I then proceeded to be completely lazy about finding a place to work and ended up in one of the least desirable places: a local government office. I'm not going to say which one. I doubt they're much different anyway.
Have you seen the movie Fight Club? You know the dead, exhausted look that Edward Norton has in his eyes whenever he's in office scenes?
That was exactly how I felt for the duration of my 96 hours in that sterile labyrinth of cubicle walls, computer monitors and coffee mugs. By the end of my first week I had decided that I would rather slam my dick in a car door than ever work in an office of any kind ever again. God himself could not deisgn an environment more supremely devoted to crushing every molecule of the human soul.
And rush hour! Fucking rush hour. Why on Earth have we designed our cities so that we all live in these distant suburbs and spend an hour sitting in a river of cars every morning, and an hour going back up the same river every evening? It's the most monumentally inefficient system imaginable. How do people do that five fucking days a week?
Furthermore, the work I was doing I had zero passion for. It was all media releases and funding applications for trivial community charity organisations. Which is great, sure, but I don't care. Every now and then one of my co-workers (who were all very nice people) would say, "So, how are you finding local government? It can be pretty interesting," and I would reply, "Um – yes! Yes, very interesting indeed. I have no urge whatsoever to locate a firearm and spray my brains across the keyboard."
It was certainly a useful experience, though, in the same way that a vaccination is a useful experience. I am now more confident than ever that I do not want to do what I have spent the last three years being educated to do.
The Republicans were always going to be the underdogs this year. After eight years of the worst president in history, it would be hard for them not to be. The Democrats have an incredibly charismatic nominee, easily malleable mass dissent, and the media firmly on their side. If they can't win this election, they can't win any election.
Any lingering doubts over this have been put to death with the gradual revelation that Sarah Palin is going to be one gigantic liability. Her selection as McCain's running mate was a political move about as subtle as blatantly screaming, "HEY DISENFRANCHISED HILLARY SUPPORTERS! PALIN HAS A VAGINA TOO! VOTE FOR HER DESPITE THE FACT THAT SHE STANDS FOR EVERYTHING HILLARY DOESN'T!" With every passing day it has become more clear that her selection was one great big fuck-up.
Hillary Clinton is going to destroy this woman. She was harsh enough on Obama, a fellow Democrat. Imagine how she will react to a woman – a Republican woman – who stands a good chance of becoming president before she does. She'll be a fucking rottweiler.
It won't be difficult for her, because Palin is literally Hillary's ideological opposite. She wants to open pristine Alaskan wilderness for oil drilling. She doesn't think polar bears or beluga whales belong on the endangered species list, because – get this – it could damage the economy. She put off providing same-sex couples in Alaska with equal rights for as long as possible. She's a strong supporter of abstinence-only education, a ridiculously useless program, as we can see from the flashing warning signal that is her PREGNANT TEENAGE DAUGHTER.
And she's vehemently anti-abortion, which deals severe blow to the entire purpose of her selection in the first place: winning the oestrogen vote.
Moving on from the fact that this woman isn't Hillary Clinton, however much she'd like us to think she is, let's look at the other big problem: she's dangerously inexperienced. She served two terms as mayor of a rural village with a population of less than ten thousand people, and has been Governor of Alaska (pop. 683, 478) for less than two years.
So a campaign which has been continuously (and successfully) playing on Americans' concerns that Obama is inexperienced has gone and selected a vice-presidential candidate with even less experience than him.
A campaign which has continuously (and successfully) distanced itself from the extremely unpopular current president has gone and selected a vice-presidential candidate who speaks in the same rustic, folksy, stupid manner that he does.
A campaign which has continuously (and successfully?) downplayed its candidate's tottering 72 year age has gone and selected a vice-presidential candidate who is very obviously unprepared to become the most powerful person on the face of the planet, should McCain die in office – noting that in less than one presidential term, he will have passed the average life expectancy of the American male.
There were plenty of other female Republicans with more experience and a higher public profile, so the McCain campaign's decision to choose her is not just stupid, but bizarre and puzzling. Maybe they're doing a 180 on their usual policy of "don't do anything Bush does," and selecting a candidate to appeal to redneck voters who want a simple, naive candidate whom they can relate to. But I can't imagine why. The "stubborn idiot who knows nothing about anything" angle running is running thin after eight years, and they knew that.
Here's a speech excerpt:
I had the privilege of living most of my life in a small town. I was just your average hockey mom, and signed up for the PTA because I wanted to make my kids' public education better. When I ran for city council, I didn't need focus groups and voter profiles because I knew those voters, and knew their families, too.
Okay, that's swell. But it doesn't work like that in a presidential campaign, sweetheart. And the GOP is well aware of that. Which is why everybody is so bemused that they chose you.
Anyway, to look at something similar and yet completely different, there's a state election this weekend. Ad campaigns have been running for several weeks now, urging us to "Be involved in the decision process – Vote on September 6," despite the fact that voting is compulsory in WA and we regularly have a turnout of 97 – 99%. What a waste of money.
I'm really not sure what to think of Alan Carpenter. Everybody says he's arrogant (which is irrelevant), and people are constantly harping on about how Perth is going to shit, what with the rise of crime and violence, which people don't seem to realise is bound to happen in a rapidly growing city. They've provided us with new rail infrastructure and handled the gas shortage pretty well. The only things I dislike about the current government is their attempted control of the press, which is quite worrying, and their terrible road safety program, which mostly relies on speed cameras and scapegoating P-platers.
But then, the Liberals would probably do a lot worse.
I think what irritates me most about contemporary politics in WA (and, to a lesser extent, Australia) is the parties are so goddamn close to each other. It doesn't really matter whether I vote Labor or Liberal. It won't make a whit of difference to my life or to how this state is run. The general consensus among most people I talk to is that both parties are as useless as each other, which is the typical Australian view on all things political, but it seems especially pronounced this year. There's a lot of dissatisfaction.
So I'm going to vote Green as a lark, banking on the laughable idea that voter disillusionment is so widespread that they'll actually get in!
I FUCKING LOVE DEMOCRACY